Extreme Networks acquired
Avaya Networking


Extreme Networks Ethernet Routing Switches

Building a better Voice and Data Network.
Avaya IP Office
+ Extreme ERS 3600 PoE+
+ Avaya IP phones
= VoIP at it's best!
Avaya BusinessPartner
specializing in serving the Small to Medium Business arena. Sales & Service
Equipment Installation and Relocation
Structured Cabling Solutions
Network Infrastructure Str
uctured Cabling S

olutio
ns

Netw

ork Inf

CONVERGENCE TECHNOLOGY
EMERGENCY SERVICE AVAILABLE
Technical remote phone service support for Avaya phone systems available... [more]

Avaya network infrastructure
Avaya IP Office installation with IP phones
Network Infrastructure Chicago
Network Assessment Chicago
VoIP Network Infrastructure Chicago
Converged Network Chicago
VPN Chicago

IP Office 11.1 available NOW.

Extreme Network Infrstructure
Avaya IP Office Network Infrastructure
Avaya Ethernet Routing Switches
Network Infrastructure Schaumburg
Network Assessment Schaumburg
VoIP Network Infrastructure Schaumburg
Converged Network Schaumburg
Network Infrastructure Illinois
Network Assessment Illinois
VoIP Network Infrastructure Illinois
Converged Network Illinois
IP Office Network Infrastructure
IP Office Network Assessment
IP Office VoIP Network Infrastructure
IP Office Converged Network



Schaumburg, IL
(847) 781-9475
EMAIL


Onsite areas served:
Illinois Chicago area
Lower Wisconsin Milwaukee to Madison areas
Nationwide technical remote phone support
Avaya Networking
NOW Extreme Networks
Building a Better Voice & Data Network
Extreme Networks Ethernet Routing Switch 3600 series.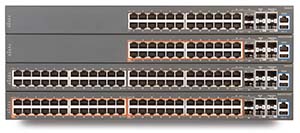 Enterprise-Class Features for Small-to-Midsize Businesses
The feature-rich Ethernet Routing Switch 3000 Series leverages next-generation technology optimized for the Branch Office and smaller Wiring Closets. Ethernet Routing Switch 3000 Series products sport the performance and agility to excel in conventional IP network deployments in additional to enabling the edge for Fabric-based solutions.
The ERS 3600 models leverage the latest advances in network switching architecture design to maximize hardware performance and software capability. These products offer a significant evolutionary step for the entry-level ERS 3000 Series, particularly in terms of value and future-ready flexibility, and have been optimized for the Enabled Edge role.
The new ERS 3600 models are an important part of this strategy, delivering Fabric Attach capabilities in a cost-effective form-factor. The ERS 3600 can be deployed standalone, or configured as a Stackable Chassis system of up to eight units/400 ports, supported by up to 192Gbps of virtual backplane bandwidth.
Deploy these Switches for a small or midsize company to power end-user devices throughout the office. They come with certified one-minute plug-and-play for IP Phones, an intuitive management GUI, and automated set-up. It can be installed in open environments outside the Wiring Closet.

Choose from 24- and 48-port variants, and standalone and stackable options. There are also fan-free models for silent running in classrooms, hospitality suites, or retail sites. All are easy to install, manage, and run.

Pace your growth with our resilient stacking design that supports pay-as-you-grow scaling. Leverage up to 80Gbps of virtual backplane capacity and connection for up to 384 devices.
FEATURES
Non-blocking, wire-speed switching architecture
Integrated design that is optimized for low latency and high Quality-of- Service (including QoS-aware Stackable Chassis interfaces)
Feature-rich support for conventional VLAN, Multi-Link Trunking, Spanning Tree technologies
Stackable Chassis technology supporting scalability up to 8 units/400 ports, and Auto-Unit Replacement for Software Image and Configuration
Fabric Connect technology support for Fabric Attach
Static, Non-Local IP Routing, and RIP Dynamic IP Routing
Industry-leading warranty:

Lifetime Hardware Warranty, providing Next Business Day shipment of replacement hardware
Lifetime Software Warranty, providing access to Updates and Upgrades.
Lifetime Basic Technical Support
Post-Purchase Advanced Technical Support
BENEFITS
Ethernet Switches That Are Simple to OperateWhen an IP Phone is plugged in, it is automatically recognized and configured. This can dramatically simplify the roll out and management of IP Phones. The Switches includes an automated script enabling fast, error-free installation when deploying SMB Unified Communications. The script automatically sets up VLAN, QoS, and other Switch parameters, so that IP Phones are ready for immediate connection. This transform a typically hours-long task – especially to someone not familiar with an Ethernet Switch – and reduces it to a simple 1-minute task.
The ERS 3000 Series combines a non-blocking internal switching fabric with a high-speed virtual backplane, enabling proportional scaling and automated software configuration when new switches are added. Up to eight Switches and 384 user ports can be supported by cabling units together.
Extreme Networks provides lifetime warranty services for the ERS 3000 Series. The warranty includes ongoing technical support and complimentary next-business-day shipment to replace failed units.
Simple to operate: Plug and play for IP phones, automated QoS provisioning, and GUI management simplify initial deployment as well as ongoing adds, moves, and changes.
Cost-effective: 100+ enterprise class features, including PoE, PoE+, at price points that fit into tight budgets.
Easy set-up for SMB Unified Communications: our auto set-up really simplifies integration and provisioning.
| | |
| --- | --- |
| ERS 3650GTS Gigabit Ethernet Switch | 48-port Gigabit RJ45 including 2-port Combo Gigabit SFP, 2-port 10 Gigabit SFP+, and 2 x 10GBASE-SFP+ dual-use Stack/Uplink ports |
| ERS 3650GTS-PWR+ Gigabit Ethernet Switch | 48-port Gigabit RJ45 with PoE+ including 2-port Combo Gigabit SFP, 2-port 10 Gigabit SFP+, and 2 x 10GBASE-SFP+ dual-use Stack/Uplink ports |
| ERS 3626GTS Gigabit Ethernet Switch | 24-port Gigabit RJ45 including 2-port Combo Gigabit SFP, 2-port 10 Gigabit SFP+, and 2 x 10GBASE-SFP+ dual-use Stack/Uplink ports |
| ERS 3626GTS-PWR+ Gigabit Ethernet Switch | 24-port Gigabit RJ45 with PoE+ including 2-port Combo Gigabit SFP, 2-port 10 Gigabit SFP+, and 2 x 10GBASE-SFP+ dual-use Stack/Uplink ports |
847.781.9475
You deserve the best networking equipment
Buy Extreme Networks
.


Call us today to evaluate, service, or quote your network.
847-781-9475

Copyright 2018 Bishop Computer Corporation
Extreme Networks is a registered trademark of Extreme Networks
Microsoft is a registered trademark of Microsoft Corporation in the United States and other countries.
Avaya, Lucent, AT&T, IP Office, Definity, Partner, Merlin, Magix, Intuity and Audix are registered trademarks of Avaya, Lucent Technologies, and AT&T.