Avaya Call Reporting
for Avaya IP Office
Avaya Business Partner
specializing in serving the Small to Medium Business arena.
847.781.9475
Authorized Certified Experienced
Avaya Call Reporting 4.2 Windows Installation Guide
Avaya Call Reporting 4.2 Linux Installation Guide
Avaya Call Reporting 4.2 Release Notes
Avaya Call Reporting 4.2 Server Requirements
Avaya Call Reporting API Documentation
Avaya Call Reporting Contact Center Release 4.2 System Requirements
Call Reporting Contact Center 4.2 Installation Guide
Active Recording System Requirements
Technical remote phone service support for Avaya phone systems available... [more]



IP Office R11.1 available NOW.

Onsite areas served:
Illinois Chicago area
Lower Wisconsin Milwaukee to Madison areas
Nationwide technical remote phone support
Avaya Call Reporting for Avaya IP Office
Avaya Call Reporting (ACR) brings to small and midsize businesses the capabilities they need to manage their IP Office™ phone system and deliver a better customer experience. ACR is a scalable call reporting and contact center solution that can be deployed on top of an existing IP Office™ platform.
ACR's real-time and historical call reporting capabilities extract call information from your IP Office™ system to provide visibility on call and staffing trends and overall performance. Cradle-to-grave reporting reveals the various paths taken by calls and the people involved from initial contact till the end of calls. Avaya Call Reporting delivers great value with features like unlimited configurable wallboards, real-time reporting, and an improved agent desktop experience.
Avaya Call Reporting provides an easy to deploy and simple to use multichannel contact center for IP Office™. With ACR customers can interact with businesses via voice calls and web chat. Skill-based routing helps connect customers to agents best equipped to service inquiries. Queue call back frees customers from waiting on the phone and instead request a call back without losing their original position in queue. With Avaya Call Reporting, you can record calls and integrate it with comprehensive reporting. Customers can download, email or listen to calls within the Avaya Call Reporting application.
Avaya Call Reporting is a modular solution that helps small and midsize businesses to begin with a standard call reporting license and add real-time reporting, contact center and call recording modules as their contact center requirements evolve.
Which Avaya IP Office Releases support Avaya Call Reporting?
Avaya Call Reporting is targeting new system installations for IP Office R10.1 and R11.0. IPOSS and Avaya Call Reporting maintenance are required.
Does Avaya Call Reporting work on Essential Edition?
Yes, Standard Base reports are supported with Essential Edition with a separate PC required to support the Avaya Call Reporting Solution. The Recording Library and Add-on service are not supported on Essential Edition / Embedded voicemail. These services require Voicemail Pro.
Features and Benefits

Real-time monitoring – Unlimited configurable wallboards and up-to-the-second agent state visibility provide real-time contact center metrics.
Historical reports – 60 out-of-the-box reports help you measure performance and identify and pursue improvement opportunities.
Multichannel Contact - Customers can interact with businesses via voice calls and web chat.
Skill-based routing – Intelligent routing of customers based on skill group and proficiency.
Queue call back – Empowers customers to request a call back while maintaining their original position in queue.
Agent desktop – Track agent productivity with reason codes and empower them to collaborate with supervisors via presence utility.
Call recording – Call recording and playback integrated with cradle-to-grave reporting.
Deployment options – ACR can be deployed on-premise and via Partner Cloud Powered by Avaya.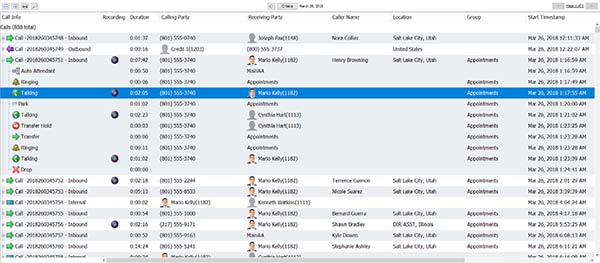 Call Reporting Cradle to Grave
Experienced and Certified - a winning combination!

Microsoft is a registered trademark of Microsoft Corporation in the United States and other countries.
Avaya, Lucent, AT&T, IP Office, Definity, Partner, Merlin, Magix, Intuity and Audix are registered trademarks of Avaya, Lucent Technologies, and AT&T.